---
This page, posted on my wife's personal website, is dedicated to helping others learn how to build their own biodiesel processor so you can bypass the gas pump!
---
These are links to my most used resources:
utahbiodieselsupply.com
[see Utah Biodiesel chart at bottom of this page]

Here's an excellent link to several video tutorials:  
http://www.utahbiodieselsupply.com/tutorialvideos.php#intro
Videos you can rent:

http://smartflix.com/store/video/585/Biodiesel-How-To-1-The-Veggie-Fuel-Video
Check out these videos here for a humerous demonstration:
There are countless forums on biodiesel you can join here:
http://groups.yahoo.com/search?query=biodiesel
---
My name is Kris Lanning and I live in a rural area near Seattle, WA. You may have seen my comments in the AARP magazine that came out in September, 2008. After watching the price of gas and diesel go up, up and up some more, I decided one day I didn't want to pay the price at the pump anymore. This picture shows the price at the pump when I made that decision. At the time, I was filling up my 190 gallon motorhome with diesel. As you all know, the price has continued to go up since then at least another $2.00 per gallon! Outrageous! [It has since come back down and gone back up!]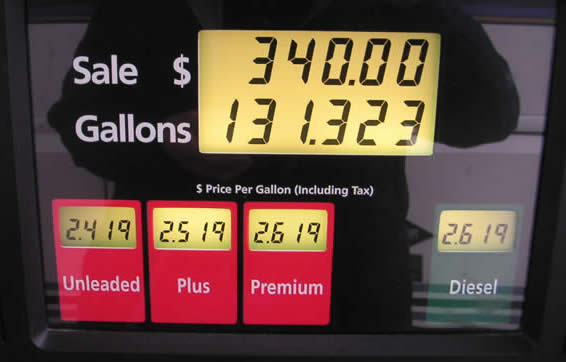 I got mad! I was tired of making someone else rich while I emptied my pockets every week filling my gas tank. I decided I was going to do something about it but I wasn't sure what. I really didn't know if I could make my own biodiesel and I didn't even own a diesel vehicle at the time, other than our RV. Coincidentally, there was a biodiesel symposium taking place locally so I went out of curiosity. After attending the symposium, I realized it was doable.
I started my research by doing an online search for "biodiesel Seattle" and found a local workshop through www.biolyle.com. Folks come from all over, even Canada, just to take his workshops. You can get started by doing an online search for "biodiesel" and don't forget to include your city in your search. If you don't find anything, try a larger city nearby. I've listed a few of the most helpful websites I have found at the top of this page.
After taking a couple of workshops and attending meetings at the NW Biodiesel Network, I visited several Asian and Mexican restaurants in my neighborhood and asked for samples of their used oil so I could test it. The Asian restaurant oil tested best so I asked if they would give me their used oil on a regular basis. Most were happy to support me when I told them what I would be doing with it. Some were already obligated to a company in Washington State that pays restaurants 10¢ per gallon to pick up their used oil and had a contract. They said to come back when the contract expired. I am always on the lookout for new restaurants opening so I can get there first and ask for their oil. You may run up against the same issue depending on your state but you won't know until you ask.
I supplied my restaurants with containers so they could easily collect their used oil for pick-up. Trying to keep costs down, I checked Goodwill and thrift stores for containers. One restaurant even puts the oil back into the original containers for me. I pick up oil at my restaurants semi-monthly but it could be more or less frequent, depending on how often they change their oil.
At first, I used my biodiesel in my riding lawnmower. It worked great so next, I had to find a diesel vehicle that I liked and trade in my gas vehicles. There are lots of makes and models to choose from out there.
Most of us simply can't afford to fill our gas tanks these days so I hope this information will be enough to help you make the decision to build your own biodiesel processor. You are only limited by the amount of space you have to devote to your processor and availability of used cooking oil. Even though the price of fuel has dropped recently, it's still a good thing to do right now. [Since this was first written, the price has gone up again to new record levels.]Most importantly, it's better for the environment.
GOOD LUCK!
CHART FROM UTAH BIODIESEL SUPPLY: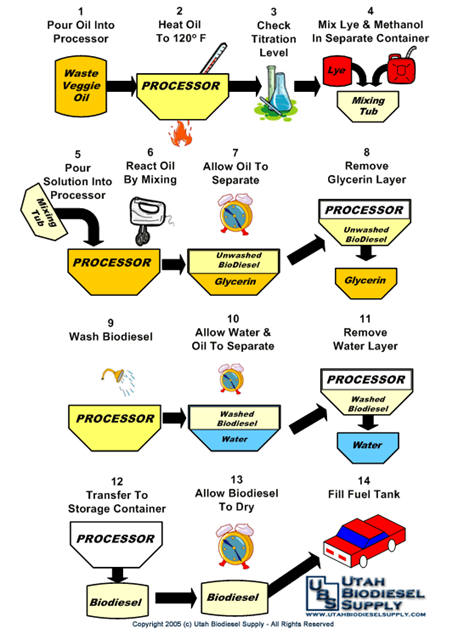 ---